死ぬほど忙しいときに限って連投(笑
一応Hyde Park gigの注意事項、書いておきますーーーーーーー。
-----------------------------------------------------------------------
WHERE IS THE BLUR CONCERT TAKING PLACE?
The Blur concert site will be on the East Side of Hyde Park, near to Park Lane. The entrance will be on the North of the site and the nearest tube station is Marble Arch, though it is also easily accessible from Hyde Park Corner station.
分かり易い地図じゃのう(笑
これ多分下の駅がMarble Archで、上がLancaster Gateでしょう。
最寄の駅はMarble Arch。Hyde Park Cornerも結構近い。
ってか、いつもはHyde Park Cornerなのだがのう。あっちの方が入りやすいような....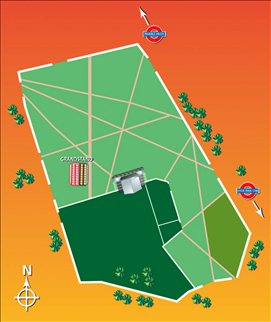 OPENING TIMES
Doors are at 14:30, the music will start at 16:00. Blur will be last on as the headliners, finishing at around 22:30
SHOWTIMES
THURSDAY
4.00 - 4.40 HYPNOTIC BRASS ENSEMBLE
5.00 - 5.40 GOLDEN SILVERS
6.00 - 6.45 CRYSTAL CASTLES
7.10 - 8.00 FOALS
8.30 - 10.15 BLUR
FRIDAY
4.00 - 4.40 DEERHOOF
5.00 - 5.40 FLORENCE & THE MACHINE
6.00 - 6.45 AMADOU & MARIAM
7.10 - 8.00 VAMPIRE WEEKEND
8.30 - 10.15 BLUR
待てねぇーーーーーーーーーーーー(涙

AGE RESTRICTIONS
Children under 16 years old must be accompanied by a guardian. Don't take any chances - bring proof of age.
Only babes in arms will be admitted free of charge, otherwise you will need a full price ticket for everyone attending.
N.B. This event is not suitable for small children as it will be very busy and loud.
PROOF OF AGE
If you are lucky enough to look under 21, it may be that we ask you to prove your age when entering the festival (under 16's must be accompanied by a parent or guardian) or when attempting to buy alcohol.
Please don't be offended by this request, in fact take it as a compliment!
The ONLY accepted proof of age documents are:
1) Passport (Not a photocopy)
2) Photocard Driving License
3) Proof Of Age Card - The card must be part of the PASS scheme and carry their hologram.
4) Northern Ireland Electoral Identity Card.
If you would prefer to bring a Proof Of Age Card but don't yet have one, click here for details on how to apply for one. We recommend you start the process of ordering your card very soon to ensure you are prepared for the festival.
これ意外に皆様気をつけて下さい。日本人は若く見えるのですよーーーーーー。
21歳以下は年齢証明出来る物を求められるときがあります。
って、混んでくると結構スルーです(笑
早めに行く方で若く見える方は気をつけて。
でもパスポート持って行くのもどうよと(ちなみにコピーは駄目です)
運転免許ぐらいがええんでないっしょか。
まぁ......見ないと思うけどねぇ.......
BRING
A hat, sunscreen, sunglasses, rainwear, woolly jumper / fleece,– your ticket !
Bring enough cash for the day and/or a cash card (keep it safe!) We have many cash machines onsite accepting all major UK debit cards. We also have trained engineers onsite to manage these machines - please ask them for assistance if required.
Plus, tell your friends of any allergies you have.
Check out the latest weather update before you leave for Hyde Park.
DO NOT BRING
Chairs of any sort, they will not be permitted in the arena. There are several areas where seating is provided away from the main stage if you need a break during the day. Should you require seating throughout the day, please call our access department on 02071952133 to discuss your needs.
Offensive weapons or anything that may be considered offensive.
ANY glass containers, ANY pets, Laser pens ( they are dangerous and may result in eviction without refund )
There will be plenty of food stalls at the edges of the arena, catering to a wide variety of tastes. Soft Drinks, beer, cider, wine, champagne (by the glass) and a range of wines and cocktails will be available all day at the various bars.
You may bring soft drinks in plastic or paper containers 500ml or under as well as food for personal consumption.
The following items are not permitted in to the site:
1. Chairs, tables, barbeques, prima-stoves etc.
2. Alcohol
3. Glass or cans
4. Food hampers/cool boxes
はい、武器は持ち込み禁止ですよ(笑)護身用でも駄目よ。
バーベキューセットも駄目っすからね(なにしに来るんじゃ
ペットも椅子も駄目よ(これはいそう。犬と一緒にBlur。
水はグラスとか缶に入ってなきゃいいって言いますが、結構ペットボトルも取られたりするよね。
フェスなみに中には屋台が五万と出ますが、ご存知の通り、高くてまずいです(笑

Tシャツは8種類ぐらいあります。
結構昔のも売ってます。大体£20。ハイドパークは高くなるかもねー。
あとは、バック、バッチ、コースター等ありましたぜ。
画像はそのうちあげます。
CAMERAS
Standard compact cameras will be permitted, though you will not be able to take in a professional camera i.e. A camera with interchangeable lenses (SLR)
普通のカメラは全然OK。
LOCKERS
To keep your valuable items safe while you enjoy the music, lockers are available to hire and can be booked as a supplemental item when you make your ticket purchase.
IMPORTANT! - PLEASE NOTE: The lockers are 30cm Wide x 30cm Deep x 40cm High - so they are the right size for small valuables (mobiles, wallets, cameras).
ロッカーは珍しくありますが、あらかじめチケット買わなくてはなりませぬ。
こちらからどうぞ。
£6だって。高いなぁーーーーーーー。
30cmx30cmx40cm。小さいので、貴重品のみ。友達とシェアもええねぇ。
あとBox Officeは、入り口近くにあるはず。
いつもだったら入り口の横。並ぶ列が違うので、着いたら誰かに聞くのがええと思います。
注意事項は下記の通り。
The tickets should be collected by the credit/debit card holder. Box office times vary from event to event but on the whole they will be available within the hour before the start of the event. You will need to quote the reference number and take the credit/debit card used to make the booking as identification.
イベントによるけど、大体1時間前から受け取り可能(ホントかぁーーー???
必ず支払ったときのカードが必要だす。
こんな感じですが、どうでしょう。
あ、トイレは汚いです(笑
とにかくK太ちゃんじゃないけど、雨だけは降りませんように(切実
皆様、楽しみましょーーーーぜーーーーーーーーーーい。